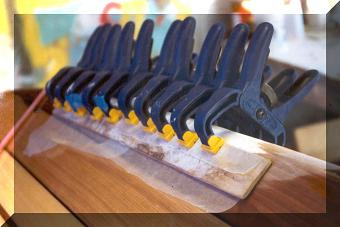 You can't ever have too many clamps!
Tools
The basic kit: first and foremost, the 5" random-orbital sander, this one my favorite Porter-Cable, with hook & loop pad, running 60, 120, and 220 grit paper. For big jobs, the 7" sander, this a Rockwell left over from my boatbuilding days, with softpad. Indispensable for inserts is the trim router, shown my trusty Bosch.
To get into tight spots, the air die grinder, plus the little air right-angle grinder. For fin box surgery, the Bosch jig saw. To poke holes, and to deal with recalcitrant foot strap screws, the DeWalt cordless driver/drill.
For polishing, the Makita variable-speed machine, using Maguire hook & loop foam pads. Body shop files are indispensable, as are sanding blocks, an assortment of small files, and thread cutting and chamfering tools.
A good scale is a huge help, as is the infamous Sovereign moisture meter. To position fin boxes and such, the clear plastic Pleskunas ruler is a real time saver.
In addition, a compressor is essential, as is a vacuum-pump (1/16HP is sufficient). To draw down large vacuum-bags in a hurry, I use a Shop Vac. A collection of cutting tools - chisels, carpet knives and such - will help remove fractured materials. To deal with foot padz, I use Xacto knives and single-edged razor blades. Scissors are needed - for myself, I prefer many cheap ones that I can discard when they get gushy, instead of one fancy one that I have to worry about. And - you can't ever have too many clamps!